About The Project:
#1 Custom Website Design: After accepting this redesign task, Pixel Studio Productions project went to our digital marketing strategy team. They thoroughly evaluated client's industry and researched their main competitors. After few days of an in-depth research, they came up with a unique design concept that would set Pixel Studio Productions apart from their competitors.
Then the concept was transferred further along to a team of talented website designers that came up with a modern, clean, user-friendly and highly-converting design. Finally, when designers completed the design, the project was transferred to a team of professional front and back-end developers who finally made pixelstudioproductions.com a reality! To see full website design case study, visit this Pixel Studio Productions design presentation.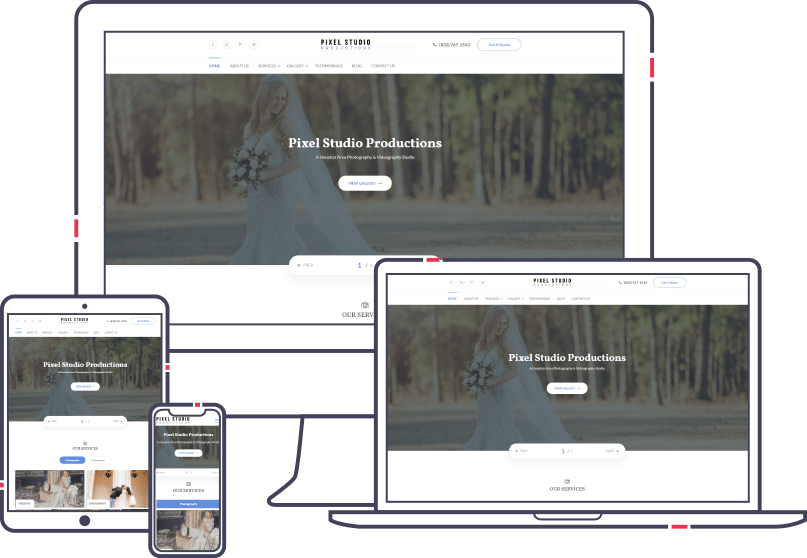 #2 Search Engine Optimization: At the beginning when Pixel Studio Productions approached us regarding helping them gain better search visibility, the website pixelstudioproductions.com was far from being visible anywhere close to the first page of Google. Our talented team of SEO experts gladly accepted the challenge and already after about six month, pixelstudioproductions.com sarted populate on the first page of Google for many of their targeted keywords.
Since then, we kept working on the site and at the current moment it ranks on first page of Google for hundreds of photography, videography and many other targeted keywords that bring Pixel Studio Productions tons of invaluable visitors that hire them on daily basis.
About ODMsoft:
Since 2013 ODMsoft agency has been diligently providing web marketing, design & development services throughout North America. The company helps companies of all sizes creating an authentic brand identity to make them stand out in the crowded marketplace and grow their business through our innovative technology solutions and progressive marketing strategies.
Initially established as a local web marketing agency in Houston, TX, ODMsoft has rapidly expanded globally with offices throughout the world and positioned itself as one of the leading technology companies in the English-speaking markets.
Contact Details:
ODMsoft
4040 Willowbend Blvd #500, Houston, TX 77025
(832) 626-1460
odmsoft.com/services/houston